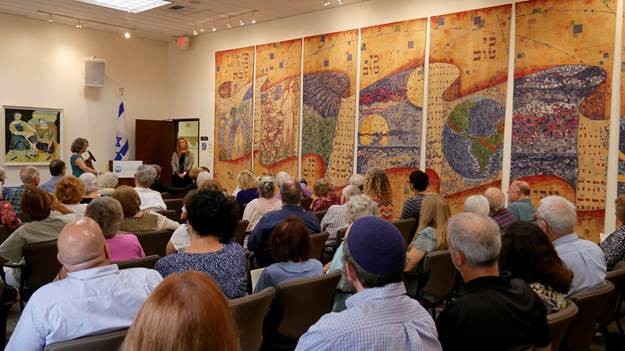 On Sunday, November 13, 2016, the Jewish Federation of Greater Santa Barbara's Art at the JCC held an opening reception with more than 130 guests for its Celebration of Life Exhibit and Benefit. The show celebrates the lives of local Holocaust Survivors with a fresh approach focused on life and renewal rather than death and destruction. It features major works from Laurie Gross studios, David Labkovski, and other local artists and Survivors, and runs through December 27, 2016.
The show's centerpiece is the incredible seven panel tapestry entitled Seven Days of Creation from Laurie Gross Studios. This intricately woven and embroidered masterpiece spans over ten feet tall and approximately thirty feet wide. The exhibit also includes prints on canvas by Lithuanian-Israeli artist David Labkovski (1906-1991), in his Santa Barbara debut. David Labkovski's art tells the story of Jewish destruction, survival, and renewal through his expressive technique and captivating oil paintings.
The reception's program sought to find a balance between commemoration and celebration, allowing local Survivors Erika Kahn and Margret Singer to share their memories of Kristallnacht in Germany. It also included perspectives on how Germany treats Jews today by Rachelle and Shoham Yaniv, and comments from the exhibit's curator Lynn M. Holley and artist Laurie Gross. We were also honored to have the Lithuanian Consul General present to support artist David Labkovski, who was born in Vilna, Lithuania.
The event was featured in The Independent, Casa/The Voice, and Noozhawk, and one local Survivor, Helga Carden was interviewed by Lance Orozco on KCLU News.