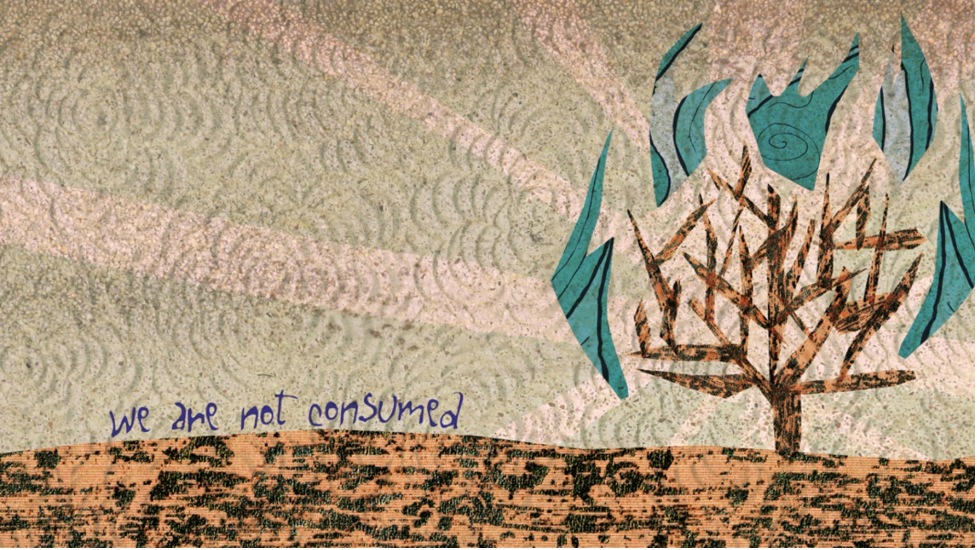 "Earth's crammed with heaven,
And every common bush afire with God:
But only he who sees takes off his shoes."
– Elizabeth Barrett Browning, Poet (1806–1861)
Sabbath arrives this week – and not a moment too soon it seems, after a most challenging and chaotic week for our nation. It was difficult to watch the violent images from our nation's capitol on Wednesday. The scene certainly did not fit with what we usually expect to see in our congressional houses and on the steps of our hallowed buildings of government, with our elected officials and their staff members cowering under their desks. But yet, history was also made this week – and no matter on which side of the aisle you sit, there must be a feeling of forward movement to realize that both the first Black senator and the first Jewish senator will be going to Washington from the state of Georgia! We have work to do, but I am confident that we will do it if we work together, moving forward with confidence and faith in our institutions.
 
This Sabbath, we start a new book of the Torah – the Book of Exodus – a familiar story, setting the stage for the Passover tale coming soon. These first five chapters of the Book of Exodus cover quite a bit of ground to set up the story: the new Pharaoh enslaves the Israelites and demands that all Israelite baby boys be killed at birth, but the two Hebrew midwives, Shifrah and Puah, defy the order. Moses' mother puts him in a basket on the river to save him and he is rescued by Pharaoh's daughter. As an adult, Moses kills an Egyptian taskmaster who is beating an Israeli slave, and then he flees to Midian, where he marries Zipporah. Ultimately when we finally get through it, this story is about freedom and redemption, but at its core, it is also about showing up and stepping up to the plate – and that occurs at the central scene of this week's story – at the Burning Bush – when Moses faces God and the challenge before him.

Of course, the real moment of decision for Moses comes at this pivotal quintessential scene of the Burning Bush, for it is there that he faces the three greatest human fears. Contrary to our image of the Burning Bush scene, perhaps aided by Charlton Heston and "The Ten Commandments," legend tells us that both the bush and God's voice were very humble. We are told that it was more of a weed and God's voice was barely a whisper, but it seems that Moses was paying attention – and that is the key. He was ready to be called upon, even if he didn't know it immediately. Moses could have walked away, but agreed to remove his shoes, God's first request (as he was on hallowed ground), with the ultimate signal that he was ready to do God's bidding with one key word: Hineini – Here I Am, the Biblical password for "I'm showing up." But then, in this divine and unearthly exchange, Moses had to face three core fears when agreeing to help free the Israelites from slavery, which parallel those shared by all of humanity: first, they won't listen or believe me; next, I don't have the skills to accomplish this or make a difference in the world (in Moses' case, he told God he was not good with words); and finally, someone else can do a better job (again, in Moses' case, God convinced him that his brother Aaron could be his partner in accomplishing the task). At that bush, Moses was expressing what we all feel very often: I'm just not sure I'm up for the job, but I'm willing to face my fears.

The famous line from this week's Torah portion is one that has deep meaning for all time: "He gazed, and there was a bush all aflame, yet the bush was not consumed." According to legend, there are many interpretations for the famous bush which was not consumed by fire, but clearly, this was a signal to Moses that it was somehow Divine. One way to understand this is that the Israelites themselves would not be consumed or destroyed by their experience of slavery – and that freedom would indeed prevail, so that the Jewish people itself would come to be, as did in fact come to pass. But I like to believe that this message has a meaning for all time. We, too, will prevail in our struggles and difficulties, just like the burning bush of old. Tomorrow, January 9th, marks the 3rd anniversary of the Montecito Debris Flow, a difficult time in our community when we remember 23 lives lost and great tragedy. There will be a virtual commemoration tomorrow evening at 6:30 pm. For information, click here. Anniversaries can bring up difficult feelings, but it is important to mark them and remember. The important thing is that like the Burning Bush, we are saddened, but not consumed. A good reminder after this difficult week, as well.  As a nation, we, too, will prevail after heartache.

There is a famous story in our tradition of the Hasidic Rabbi Zusya who lived in Poland in the late 1700's. It is said that before Rabbi Zusya passed from this life to the next, he said to his students: "In the coming world, they will not ask me: 'Why were you not Moses?' However, they will ask me: 'Why were you not Zusya?'" Of course, the message is clear. All each of us needs to do is be the best we can be – hear the voice in the wilderness when it calls out to us and answer the call with Hineini – Here I Am. Show up and be present for yourself, your family, your friends and your community, because your world needs you more than ever this year and in this exact moment.

Wishing you a Shabbat Shalom – full of peace and calm,
Ruth Steinberg, LCSW
Director, Jewish Family Service
Photo caption: The message of the famous Burning Bush story in this week's Torah portion is a powerful one: Like the bush of old, we are not consumed by the dark forces in the world out to destroy us. Our light remains burning.